STOCKHOLM (MAY 21, 2019) – The world is moving quickly to 100% clean energy, but we also see the destruction and disruption of the fossil-fueled economy around us all the time. Especially in a time of both massive growth and inequity, accelerators have a special role to play in the emerging clean economy.
New Energy Nexus together with The Swedish Energy Agency, World Wide Fund for Nature, EIT Climate-KIC and The Cleantech Group hosted the fourth annual Accelerate Energy Summit, a unique gathering of mission-aligned clean energy incubators and accelerators focused on accelerating the global energy transition through the exchange of best practices, knowledge sharing and community-building. 40 accelerators across 20 countries participated in two days of activities covering topics including the role of accelerators in addressing the world's energy challenges, defining the corporate innovation structure and telling the impact story through data.
"To fight the climate crisis and a world plagued by fossil-fuel hungry economies, we need not only the technology solutions but the community of accelerators to be the foundation where these solutions can grow and thrive," said Ryan Kushner, Global Network and Curriculum Lead for New Energy Nexus. "Think of the ecosystem of clean energy startups as the seeds and the accelerators as the soil, sunshine and water."
"Energy accelerators have the true potential to be a significant engine of change in driving the energy transition to a decarbonized future. There are inspiring leaders around the globe completely dedicated to understanding how we fine tune and speed up how we scale up the wealth of brilliant solutions out there in every market," said Stephen Marcus, Director, Cleantech Group.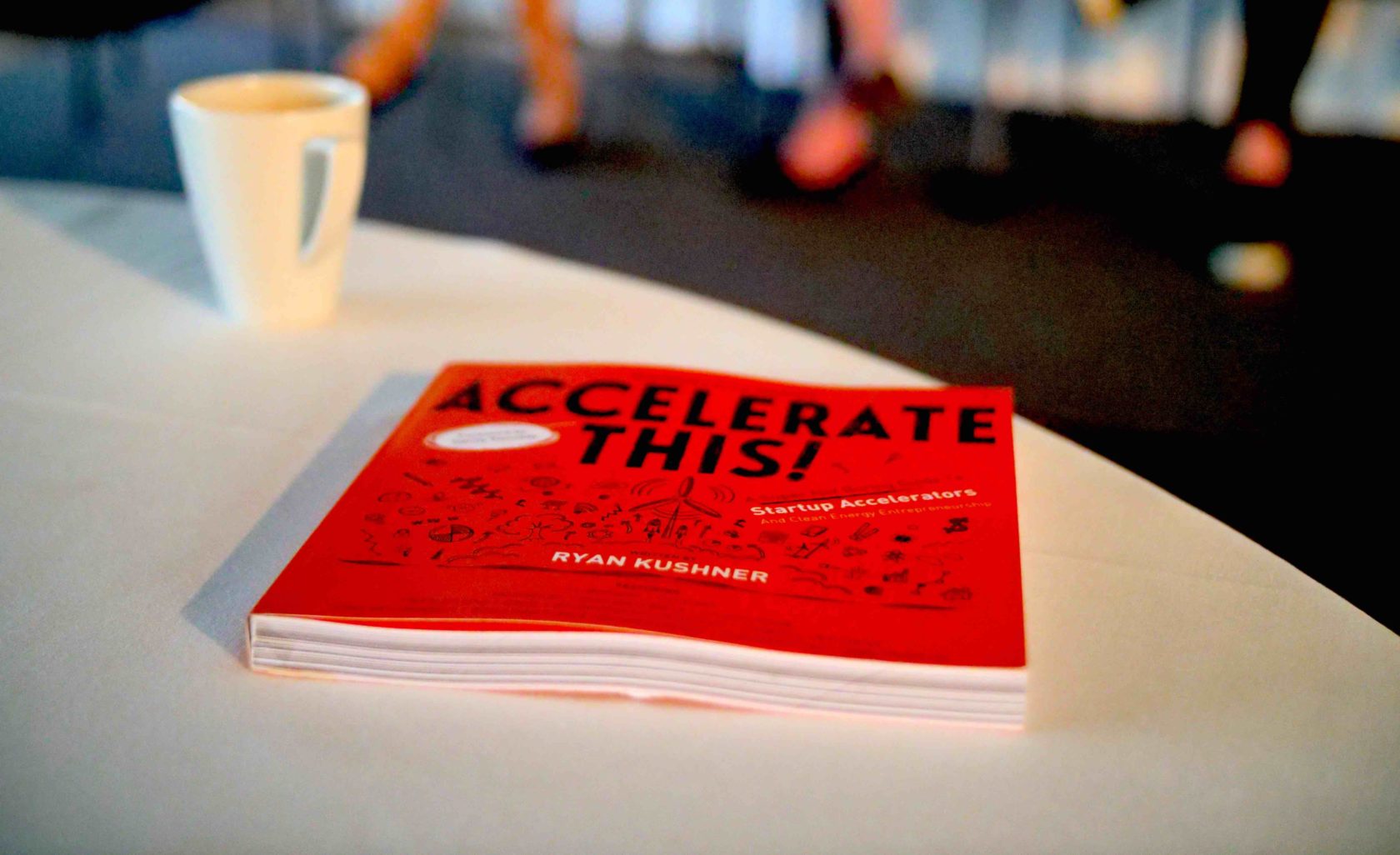 The holy bible of accelerator knowledge, insights and stories.
Earlier this year, New Energy Nexus launched Accelerate This! A Super Not Boring Guide To Startup Accelerators And Clean Energy Entrepreneurship, a highly engaging, visually entertaining, unorthodox book written from the experiences of author Ryan Kushner and over 70 leading accelerators and incubators including Elemental Excelerator, Y Combinator, Rockstart and EnergyLab.
"Sweden punches above its weight in terms of innovation and we're thrilled to share the magic that makes that happen with like-minded agents of change who are collectively accelerating the great energy transition, " said Andreas Stubelius, Portfolio Manager at Swedish Energy Agency.
"The current climate emergency requires us to go from increasing global emissions to halving them by 2030 which means unprecedented acceleration of a large range of high impact innovations across the economy. If we keep our society's 24/7 innovation machines central in this journey – the accelerators and incubators – it is achievable. Otherwise not. We hope active accelerators in the climate space will join us and other partners in supporting entrepreneurs with very high greenhouse gas impact potential and explore a global impact framework for this," said Stefan Henningsson, Senior Adviser Climate, Energy & Innovation, WWF Sweden.
Part of the Accelerate Energy Summit experience is taking an inside look at the local ecosystem and hearing from the latest and greatest. According to the Swedish Energy Agency, their incubator framework is closely tied to academia and corporations providing startups a clear path to customers once they graduate from the program. Sting, also known to be the "Best Accelerator in the Nordics" has supported 270 innovative startups through their program with a strong intent on recruiting female founders with only 18% of the total applicant pool two years ago to 40% today.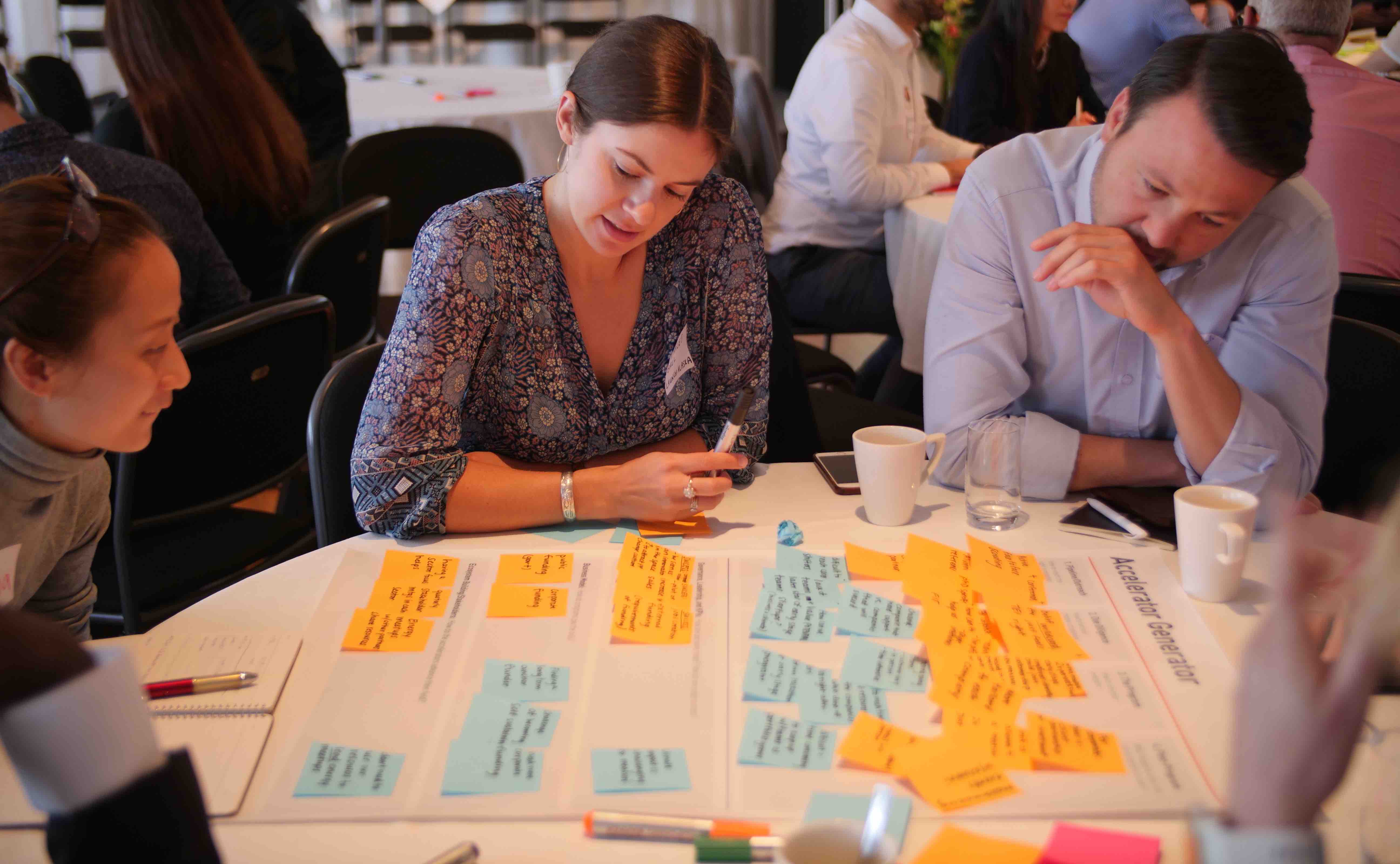 Participants take part in a joint-exercise identifying differences and commonalities with accelerators they manage.
"Entrepreneurs in Europe are 82% male. If you want to improve, you have to measure. Make sure we have enough applicants/candidates (100% female or blended team), promote female founders, organize female investor meet-ups,  be very active in social media. Working in the energy sector, it is male dominated, and then working with entrepreneurs is also a male dominated field – that needs to change. We need to make sure that we provide more female role models into the ecosystem," said Magnus Rehn, Business Coach at Sting.
Check out the highlight video of Accelerate Energy Summit 2019 here.
To learn more about New Energy Nexus and its programs for accelerators and entrepreneurs, check out www.newenergynexus.com and subscribe to our newsletter here.
New Energy Nexus
New Energy Nexus is an international organization that supports clean energy entrepreneurs with funds, accelerators and networks. We started in California and also operate programs in China, India, Southeast Asia, and East Africa.
More information at www.newenergynexus.com.
Swedish Energy Agency
The Swedish Energy Agency is leading the energy transition into a modern and sustainable, fossil free welfare society – applying our credibility, a comprehensive approach and courage.
More information at www.energimyndigheten.se/en.
EIT Climate-KIC
Climate-KIC is the EU's largest public private partnership addressing climate change through innovation to build a zero carbon economy. We address climate change across four priority themes: urban areas, land use, production systems, climate metrics and finance. Education is at the heart of these themes to inspire and empower the next generation of climate leaders. We run programmes for students, start-ups and innovators across Europe via centres in major cities, convening a community of the best people and organisations.
Climate-KIC is supported by the European Institute of Innovation and Technology (EIT), a body of the European Union.
More information at www.climate-kic.org.
World Wild Fund for Nature (WWF)
WWF is one of the world's largest and most experienced independent conservation organizations, with over 5 million supporters and a global network active in more than 100 countries. WWF's mission is to stop the degradation of the planet's natural environment and to build a future in which humans live in harmony with nature, by conserving the world's biological diversity, ensuring that the use of renewable natural resources is sustainable, and promoting the reduction of pollution and wasteful consumption. The Climate and Energy Practice (CEP) works towards an equitable and just transition that limits warming to 1.5°C degrees, protects people and biodiversity and builds a climate resilient future.
More information at www.panda.org
Cleantech Group 
Cleantech Group provides research, consulting and events to catalyze opportunities for sustainable growth powered by innovation. At every stage from initial strategy to final deals, we bring corporate change makers, investors, governments and stakeholders from across the ecosystem the access and customized support they need to thrive in a more digitized, de-carbonized and resource-efficient future.
The company was established in 2002 and is headquartered in San Francisco with a growing international presence in London. Our parent company, Enovation Partners, is based in Chicago.
More information at www.cleantech.com.
Media Contact
Andrew Chang
andrew.chang@newenergynexus.com
+1 415 400 8854