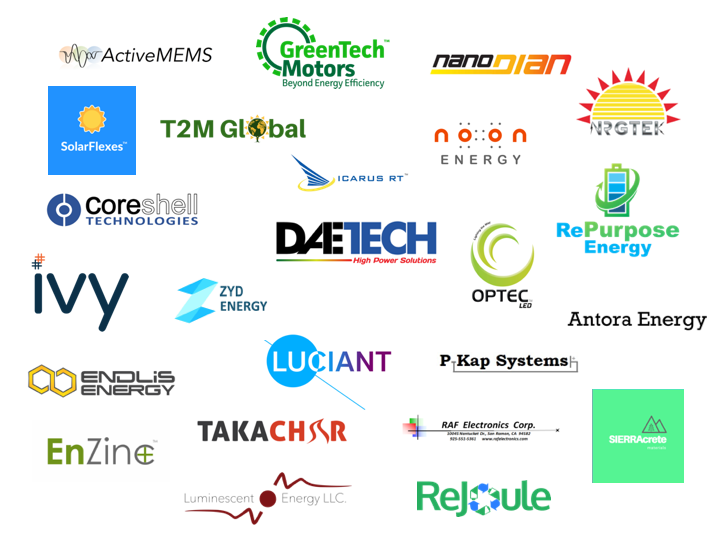 The California Sustainable Energy Entrepreneur Development Initiative (CalSEED) is thrilled to announce the latest recipients of the Concept Award, a grant administered on behalf of the California Energy Commission. CalSEED is an early stage grant funding and professional development program for diverse innovators working to bring clean energy concepts to market.
The California Energy Commission approved $3.75 million in grants for early-stage startups, entrepreneurs and individuals with innovative clean energy solutions. The 25 grants of $150,000 each brings the total number of CalSEED Concept Awards to 71 over the last 3 years.
This year's Concept Awards represent a portion of the $24 million total to be administered through the CalSEED initiative over 5 years. The innovations receiving awards fall within the technology areas of energy efficiency, renewable generation, and energy storage.
"These 25 companies were selected from 200 applicants for the technical merits of their innovation and potential benefits to California rate-payers when the technology is scaled. The rigor of the selection process is really in our Technical Advisory Committee, which is made up of industry experts in cleantech, social equity, and entrepreneurship. The CalSEED team is very grateful to all of the Technical Advisory Committee members and is excited for this new cohort!" said Joy Larson, CalSEED Program Manager.
In addition to funding, the CalSEED Concept Award includes mentorship, professional business and leadership development, and opportunities to connect with other players in the clean energy ecosystem. CalSEED partners with Cleantech Open, Greenlining Institute and Momentum in conducting outreach to diverse communities and accelerating the Concept Awardees throughout the program. Concept Awardees will also have the opportunity to participate in an annual Business Plan Competition run by CleanTech Open to compete for a Prototype Award, which offers up to $450,000 in additional funding.
The California Sustainable Energy Entrepreneur Development initiative (CalSEED) is made possible by the California Energy Commission and funded through the Electric Program Investment Charge. CalSEED is administered by CalCEF Ventures, an organization of New Energy Nexus.
"We are so excited to be able to work with diverse entrepreneurs striving to bring 100% clean energy to 100% of people," said Danny Kennedy, Chief Energy Officer at New Energy Nexus. "The technologies emerging in California will support our mission to drive innovation and build equity into the clean energy economy."
Below are the 25 projects, each of which will receive up to a $150,000 grant:
ActiveMEMS
Powering Next-Generation IoT via Advanced Piezoelectric MEMS
ActiveMEMS is developing record-performance piezoelectric energy harvesters generating electricity from tiny machinery vibrations, providing maintenance-free and low-cost renewable power to industrial sensor nodes over their entire lifetime.
Antora Energy
Solid State Thermal Battery
Antora Energy is building high-efficiency thermal-to-electric energy converters based on solar cells that will enable ultra-low-cost electricity storage and low-cost, high-efficiency industrial waste heat recovery.
Arvind Simhadri
Pre-fabricated Affordable Renewable Energy Housing
Arvind Simhadri is developing a prefabricated and affordable mobile housing technology that will be powered by a community microgrid and can be deployed using their plug-and-play components to serve the transitional housing needs of victims of disasters.
Coreshell Technologies, Inc.
Coreshell's Thin-Film Battery Electrode Coating Technology
Coreshell Technologies is developing thin-film battery electrode coating technology that will enable lower cost, longer-lasting lithium-ion batteries that require less battery management, allowing for wider deployment of energy storage.
DAE Technologies Inc.
Rechargeable CFx Battery
DAE Technologies is developing an advanced, low-cost rechargeable battery chemistry that surpasses current state-of-the-art lithium batteries in terms of volumetric and gravimetric energy density and inherent safety.
EndLiS Energy
Low cost batteries for wide adoption of clean EV transportation
EndLiS Energy is developing next generation lithium carbon batteries that will enable wide adoption of electric vehicles and grid storage by making batteries that are environmentally friendly, cost less, are higher in energy density, and have faster recharge times.
EnZinc Inc.
Safe, High Performance Rechargeable Zinc Battery
Enzinc is developing a unique zinc metal sponge electrode that will accelerate the green energy revolution by making electric cars, home energy storage, and grid storage safer, cheaper, and cleaner.
GreenTech Motors Corp
High Efficiency Density Variable HP Integrated Motor and Drive
GreenTech Motors is developing high efficiency density motors designed to decisively reduce motor efficiency losses, electricity consumption, and carbon emissions.
Icarus RT
Icarus Energy Storage and Power Boost for Photovoltaic Systems
Icarus RT is building a low-cost hybrid solar Photovoltaic/thermal system co-located with commercial and larger Solar PV arrays. The system will recover heat from PV panels, store energy, and generate power from the stored energy after sunset or when needed.
Ivy Energy
Ivy Energy Software – Enabling Multi-Unit Shared Solar
Ivy Energy is using intelligent algorithms to enable multi-unit building owners to install a shared solar system that benefits multiple housing units, ensuring that both owners and tenants receive a financial benefit.
Luciant Inc
Luciant is developing new ceramic downconverters for LED/Laser driven lighting that will have significantly higher thermal conductivity than state-of-the-art yttrium aluminum garnet (YAG) based ceramics, dramatically improving thermal management.
Luminescent Energy
High Efficiency, Scalable Power Generating Windows for Urban Centers
Luminescent Energy is developing a new class of solar-power generating windows optimized for urban environments, seamlessly integrable into current building designs, transparent with a modern aesthetic for its viewers, and able to generate on-site and usable electricity.
NanoDian, Inc.
Low-Cost, Safer, Cobalt-Free, Nanostructured Lithium Ion Battery Cathode Material
NanoDian, Inc. is applying nano-fabrication technology to cathodes of Lithium Ion batteries to achieve 40% cost reduction in active materials in storage solutions for solar energy integration and electric vehicle applications.
Noon Energy Inc
Rechargeable carbon-oxygen battery
Noon Energy is developing a rechargeable carbon-oxygen battery that stores energy by splitting CO2 into solid carbon and oxygen in a flow battery configuration, using novel materials and reaction chemistry.
Nrgtek Inc
Energy storage with NaFe Flow batteries
Nrgtek Inc is developing a flow battery innovation that exploits low costs and high discharge voltage of sodium-iron chemistry in non-aqueous concentrated solutions, utilizing commercial off-the-shelf components and sustainable, cheaply available chemicals.
Optimized Fuel Technologies
Third Generation LED with Diffusion Lens
Optimized Fuel Technologies is developing a retrofit replacement for existing outdoor metal Halide Bulbs and LEDs to save 70-90% electrical use and eliminate light pollution from street lights and in parking lots.
P-Kap Systems
Bi-facial, low-profile, solar rooftop tracking boosts yield by 25%
P-Kap Systems is developing a photovoltaic system modeled to have 50% higher specific energy yield and 25% more energy per area than a typical fixed-mount commercial rooftop system.
RAF Electronics Corp
Advanced solid-state lighting for commercial, agricultural and residential use
RAF Electronics Corp. is developing a patented solid-state lighting technology for producing high performance, high brightness, low power theatrical spotlights, using the principles of combining non-imaging optics, imaging optics and etendue matching.
ReJoule, Inc
Impedance-Based Battery Health Management for Large Format Lithium-Ion Battery Packs
ReJoule is developing a battery diagnostic platform as a drop-in solution to replace or embed into an existing battery management system for large battery packs, consisting of a modular hardware and a data processing software component.
RePurpose Energy, Inc.
Lithium Ion Battery Fire Suppression System
RePurpose Energy is developing an innovative solution for preventing lithium ion battery fires by injecting non-conductive liquid into the battery enclosure.
SIERRAcrete Materials
SIG Wall System
SIERRAcrete Materials is developing a modern home building system which produces zero net energy efficient homes through smarter insulation technology, costing no more than conventional less well insulated homes.
Updated in 2020: SIERRAcrete Materials is now Sierra Insulating Biocomposite for Precast Panel Construction.
SolarFlexes
Rapidly Deployable Ground-Mounted Photovoltaic Solar Array
SolarFlexes is developing a ground-mounted photovoltaic solar array that minimizes project costs and timelines by leveraging economies of scale and maximizing manufacturing value stream efficiency.
Takachar
Decentralized, rural co-production of high-performance filtration media and industrial power
Takachar is developing decentralized, rural co-production of high-performance filtration media and industrial power using locally available crop and forest residues, potentially reducing energy consumption in rural water treatment.
T2M Global, LLC
Thermal Energy Storage using Ultra-High Osmotic Pressure Polymers
T2M Global is developing Thermal Energy Storage in Osmotic Polymers (TESOP) that stores heat indirectly through thermo-chemical reactions to enhance the value proposition of renewable energy technologies.
ZYD Energy, Inc.
Heat pump water heating optimization using hot water storage management
ZYD Energy, Inc. is developing an optimized electric water heating solution by integrating heat pump water heaters (HPWH) with a hot water storage management technology to achieve high efficiency operation, lower operational cost, and provide energy storage services.