SACRAMENTO, CALIFORNIA – A new California Energy Commission (CEC) funded program to help speed the commercialization of clean energy technologies launched today at an event held at the University of California San Diego.
The California Test Bed (CalTestBed) initiative is run by New Energy Nexus and designed to reduce the stumbling blocks of time, cost, and bureaucracy most entrepreneurs face when trying to bring breakthrough concepts to market. The new effort will provide $8.8M in vouchers ranging from $10,000 to $300,000 and a streamlined agreement process for entrepreneurs to test the design and performance of their prototypes. Entrepreneurs can choose one of 30 testing facilities throughout the state.
"The difficulties of navigating the landscape when attempting to commercialize any product can be daunting," said CEC Chair David Hochschild. "That's why we are pleased to support this effort with EPIC research funds. It gives clean energy entrepreneurs a greater chance at success, which helps California further its nation-leading energy and climate goals."
CalTestBed is a collaboration between the CEC, New Energy Nexus, the University of California Office of the President, Lawrence Berkeley National Laboratory, Momentum, and the Los Angeles Cleantech Incubator. The initiative is funded through CEC's Electric Program Investment Charge (EPIC), which drives clean energy innovation and entrepreneurship. New Energy Nexus received an $11 million grant in December to develop CalTestBed.
"CalTestBed is intended to ensure clean energy companies that come up through the innovation ecosystem here in California succeed, by getting tested and verified through the largest and best public university system in the world," said Danny Kennedy, CEO of New Energy Nexus. "We need thousands of successful startups to get to market, if we are to achieve the ambitious goal of 100% clean energy for 100% of the community."
"CalTestBed connects clean energy entrepreneurs with the immense resources within the UC system and at the Lawrence Berkeley National Lab," said Sandra Brown, UC San Diego's vice chancellor for research. "This effort can dramatically increase commercialization of clean energy technologies for worldwide markets."
The program reduces the time it takes to move new energy technologies from the prototype stage to the pilot demonstration stage by giving innovators access to a statewide network of testing facilities at University of California (UC) campuses in Berkeley, Davis, Irvine, Los Angeles, Merced, Riverside, San Diego, Santa Barbara, and Santa Cruz, and at the Lawrence Berkeley National Laboratory (LBNL).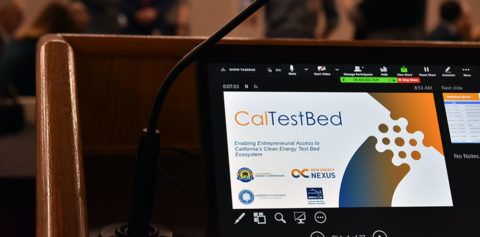 For information on the CalTestBed initiative, visit CalTestBed.com.
###
About New Energy Nexus
New Energy Nexus is a non-profit international organization that supports clean energy entrepreneurs with funds, accelerators and networks. We started in California and now operate programs in New York, China, India, Southeast Asia and East Africa.
About the California Energy Commission
The California Energy Commission is leading the state to a 100 percent clean energy future. It has seven core responsibilities: developing renewable energy, transforming transportation, increasing energy efficiency, investing in energy innovation, advancing state energy policy, certifying thermal power plants, and preparing for energy emergencies.
For more information, go to energy.ca.gov.