CHENGDU, CHINA (JUNE 11-13, 2019) – New Energy Nexus together with the Sichuan Energy Internet Research Institute, Tsinghua University (EIRI) hosted the first annual Energy Internet Innovation and Entrepreneurship Summit (EIIES) from June 11-13 in Chengdu, China. The interactive summit convened leading corporations, government organizations, energy-focused accelerators and startups from both sides of the Pacific to forge new relationships and exchange information on the latest and greatest energy internet technologies and initiatives.
According to the Development of National Energy Internet White Paper which was launched at the summit, the 'Energy Internet' also known as "Internet plus" Smart Energy is the concept of energy industries such as power generation, transmission, distribution, energy storage and consumption combined with a deep integration of Internet connectivity.
California Energy Commission Chair David Hochschild opened the summit with a keynote speech on California's path to achieving 100% clean electricity by 2045. He was accompanied at the summit by Lauren Sanchez, International Policy Director of the California Air Resources Board, and Fan Dai, China specialist with the California Environmental Protection Agency. In his remarks, Mr. Hochschild spoke about the "common opportunity" California sees to build a clean energy future.
"Climate change is the challenge of our generation and building a clean energy future is the opportunity of our generation, and I think the partnership between California and Sichuan is essential in doing that," said David Hochschild, Chair, California Energy Commission.
Over the two day summit, Chinese technology companies had the opportunity to explore the exhibition hall where 25 startups displayed and demonstrated their technologies. Organizations including the Rocky Mountain Institute (RMI), the Deutsche Gesellschaft für Internationale Zusammenarbeit (GIZ) and the Asian Development Bank spoke about their joint projects in China and how their work is advancing the development of policies and a regulatory framework for clean energy deployment.
A highlight of the summit was a world-cafe style exercise dubbed "Startup Safari" where interested investors and Chinese utilities engaged in deeper, face to face conversations with U.S and Chinese clean energy startups and "shopped" around from table to table.

Lynne Wander, Chief Operating Officer of UtilityAPI pitches to a group of researchers at Startup Safari.
"For me, Startup Safari was filled with some of the most spirited conversations from a diverse audience of investors and data scientists," said Lynne Wander, Chief Operating Officer of UtilityAPI.
Permanent Center Established to Advance the Energy Internet
The first day of the summit marked the launch of Tsinghua University's Energy Internet Innovation and Entrepreneurship Center (EIIEC), a newly built and designed co-working space outfitted with state of the art equipment and power grid live simulation testing to be run by EIRI in partnership with New Energy Nexus. This facility will provide a working space for research teams and become a landing pad for energy startups seeking to do business in China. EIIEC will provide capital for later stage companies as well as community and cross sector collaboration activities.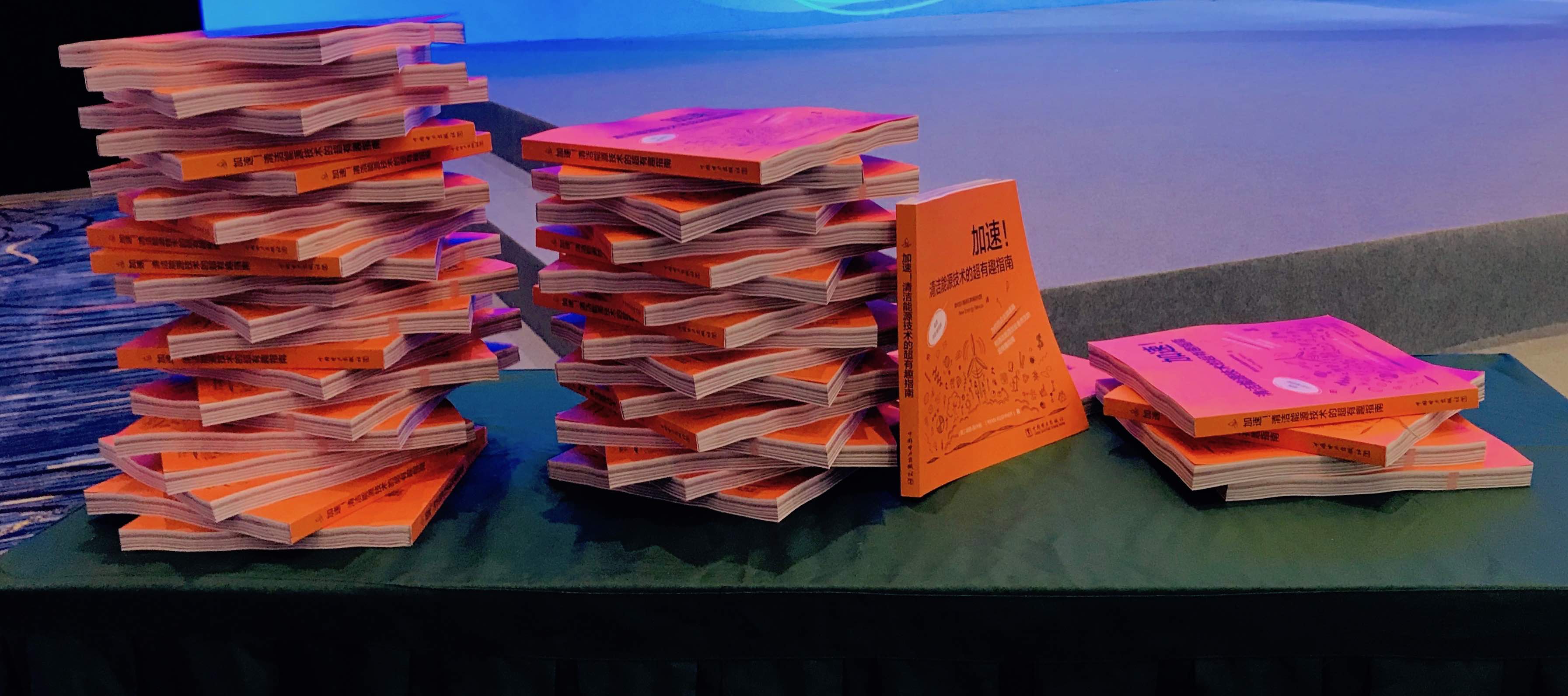 Accelerate This! is now available in Mandarin Chinese.
In conjunction with the summit, Accelerate This! A Super Not Boring Guide To Startup Accelerators And Clean Energy Entrepreneurship was launched in Mandarin Chinese. The field guide for building and perfecting the clean energy incubator and accelerator model will now be part of a series of training programs entitled the Accelerate This! Academy (ATA). Classes will be offered to incubators and accelerators in China looking to take on the world of clean energy entrepreneurship from the EIIE Center.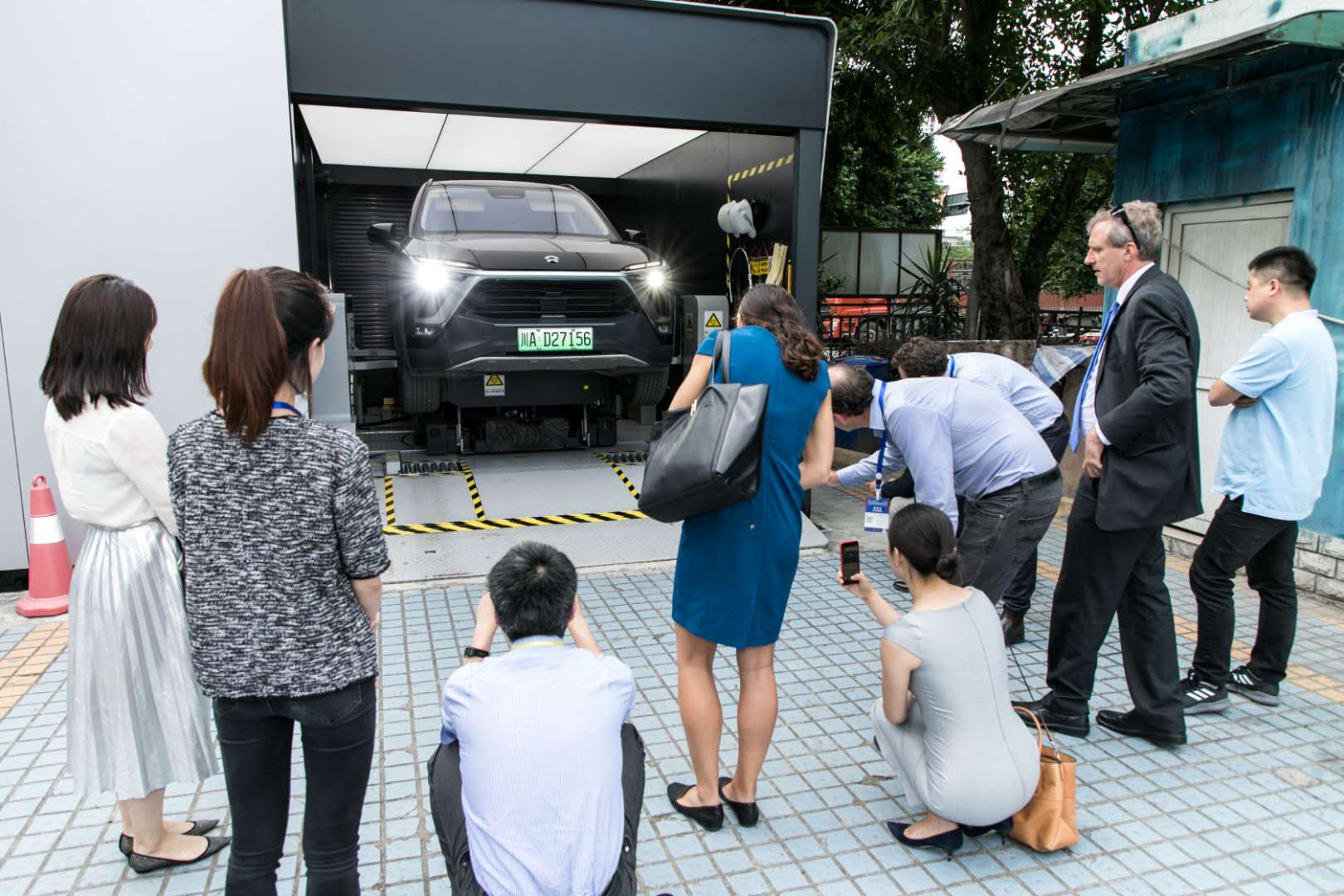 Nio, the Chinese electric car company showcases their battery swapping stations.
Nio, China's premium smart electric vehicle manufacturer and developer of the 1360-hp EP9 supercar which set the lap record for an electric vehicle in Nurburgring was in full display at EIIES providing pickup service for guests with their SUV ES8 model. The California delegation received a private tour of one of Nio's 3-minute battery swapping stations in Chengdu.
"Nio's service model is unique and centered around the customer. The battery swapping stations is a perfect example of delivering the best customer experience," said Danny Kennedy, Chief Energy Officer of New Energy Nexus. "Competition is high in the world's biggest EV market and a company's success will come down to the relationship you build with your customer."
To learn more about New Energy Nexus and its programs for accelerators and entrepreneurs, check out www.newenergynexus.com and subscribe to our newsletter here.
Check out the highlight video and photos of the summit.
New Energy Nexus
New Energy Nexus is an international organization that supports clean energy entrepreneurs with funds, accelerators and networks. We started in California and also operate programs in China, India, Southeast Asia, and East Africa.
More information at www.newenergynexus.com.
Sichuan Energy Internet Institute, Tsinghua University
Co-founded by Tsinghua University and Sichuan provincial government in March 2016, Sichuan Energy Internet Research Institute under Tsinghua University (EIRI) is committed to the research of cutting-edge technologies and the industrial development in the field of "energy internet" under the support of the Department of Electrical Engineering of Tsinghua University.
More information at www.eiri.tsinghua.edu.cn.