Join our global network of 90+ incubators, accelerators and ecosystem builders
Accelerate this!
So, what is an accelerator, and how do they work? Are they worth it for entrepreneurs, companies, and investors? What pieces of advice should all entrepreneurs know, and what role do accelerators play in the great transition to 100% clean energy? "Accelerate This!"  answers these questions by scouring the world for stories, insights, and best practices from the world's best programs, gathering the most useful entrepreneurship tools, and putting it all together in this easy-on-the-eyes, fun-to-read, super NOT boring guide. This book will help you cut through all the confusion so you can do your work better, smarter and create more impact.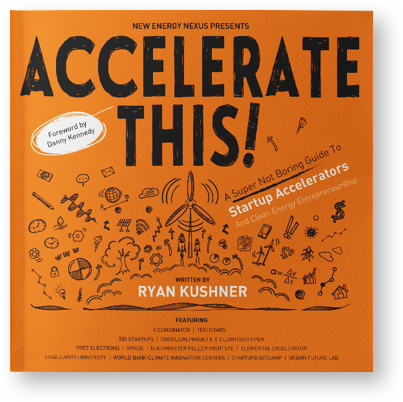 Ameren Accelerator

Saint Louis USA

The Ameren Accelerator is an innovative partnership with the University of Missouri System, UMSL Accelerate and Capital Innovators designed to invest, mentor, and accelerate the growth of next-generation energy technologies.

Austin Technology Incubator (ATI)

Austin USA

The Austin Technology Incubator is the startup incubator of the University of Texas at Austin. A program of the University's IC² Institute, ATI has a 28-year track record of helping founding teams achieve success.

Beijing Energy Network

Beijing China

The Beijing Energy Network (BEN) is a grassroots organization that was created to help understand and tackle China's energy and environmental challenges across a wide range of sectors. BEN organizes a number of regular events and activities to build and connect environmental professionals in Beijing.

Beta-i is one of the main entrepreneurship and innovation organizations in Europe. We help new and established businesses grow the startup way, by running acceleration and innovation programs, organizing events, promoting investment and creating great workspaces at our hub. Beta-i is recognized as one of the world most active startup accelerators.

Based in Hong Kong, Betatron is one of Asia's top accelerator programs. Betatron invests up to USD $150k in early-stage companies. The program helps founders scale their business by connecting them with investors and CEOs who have deep domain expertise. While Betatron is sector agnostic, the partners are passionate about companies working on climate resilience in Asia: adapting our food production, water management, housing, migration, and energy production in this era of rapid global warming and ecological collapse.

Blue Minds Factory

Vienna Austria

Blue Minds Factory is an incubator of THE BLUE MINDS COMPANY (TBMC), which focuses on start-ups in the field of energy transformation. Under this section we subsume energy efficiency, smart energy technologies and infrastructure, sustainable mobility, life in the city, and modern water and agriculture, all in combination with the opportunities of Big Data and digitizing trends.

Building Global Innovators

Lisbon Portugal

Building Global Innovators is an American style, world-class, deep innovation accelerator born from the MIT Portugal Innovation and Entrepreneurship Initiative (IEI). BGI also represents in Portugal the EIT Digital, EIT Climate KIC and EIT Food. During 8 years we accelerated 156 startups that raised almost 200M£ through our 3 acceleration program.

Carbon Center

Houston USA

The Carbon Center takes care of equipment, systems & space to let clean energy entrepreneurs focus on what's important, converting carbon dioxide.

Caribbean Climate Innovation Center - CCIC

Kingston The Caribbean

CCIC is a part of infoDev's Climate Technology Program (CTP) which focus on empowering developing countries to proactively and profitably adapt, develop and deploy climate smart (clean tech) technologies and business models.

Center For Green Entrepreneurship (CGE), University of International Business and Economics

Portland USA

Cascadia CleanTech Accelerator is a business accelerator program powered by the CleanTech Alliance and VertueLab (formerly Oregon BEST). The 15-week program delivers mentorship, curriculum, connections and funding opportunities designed specifically for early-stage cleantech startups.

Center For Green Entrepreneurship (CGE), University of International Business and Economics

Beijing China

The Center for Green Entrepreneurship (CGE) at University of International Business and Economics (UIBE) is founded on June 20th, 2014. As a non-profit global research organization, CGE is committed to the study of the nascent discipline of green entrepreneurship and establish its measurement system. Focusing on green entrepreneurship, CGE aims to accelerate the process of building "a resource-conserving, environment-friendly society" by creating a global platform that aligns government, enterprises, universities, institutes, media and capital to serve the enterprises and opening a platform that incorporates value communication, knowledge creation, experience sharing and skill development.

China Cleantech Collaboratory

Shanghai China

China Cleantech Collaboratory is an internationally networked cross-border technology and commercialization accelerator with support from government, academic, industrial, and financial institutions. We are dedicated to helping emerging Chinese and Western clean energy and environmental sustainability companies leverage China's large market opportunities and favorable commercialization ecosystems to accelerate their path to market to become global leaders.

The China Cleantech Collaboratory (CCC) helps innovative cleantech companies enter China's vast market and leverage China's commercialization advantages by providing a set of fully integrated services that encompass market intelligence, business strategy, strategic partnerships, financial resources, and on-the-ground operational capabilities.

China Impact Ventures

Shanghai China

China Impact Ventures nurtures high-potential entrepreneurs to validate, pilot and develop market-based solutions to key environmental and social challenges related to energy and mobility.

cKinetics Accelerator

New Delhi India

cKinetics is a mission driven Sustainability Insight, Innovation & Capital Advisory Firm. We work with businesses, investors, industry groups as well as thought leaders to continually generate market insight and catalyze change.

Clean Energy Business Incubator Program

New York USA

The Clean Energy Business Incubator Program (CEBIP) provides assistance and resources for developers of disruptive renewable and clean energy technologies. Bringing an innovation to market can be a difficult process that requires technical and business guidance, successful acquisition of funding, and maintaining a competitive advantage. By mentoring entrepreneurs, CEBIP helps establish successful enterprises bring their technologies to market.

Clean Energy Trust

Chicago USA

Clean Energy Trust partners with innovators to bring scientific and technological advancements to market that change how the world generates, consumes and reuses energy and natural resources.

Cleantech Open

Los Angeles USA

Cleantech Open is the oldest and largest cleantech startup accelerator program, with the mission to find, fund, and foster entrepreneurs with ideas to solve our greatest environmental and energy challenges. Through Cleantech Open's annual business competition and accelerator program, we connect cleantech startups with the people and resources that will accelerate their success, and provide a national platform for public visibility.

Cleantech San Diego

San Diego USA

Cleantech San Diego is a member-based trade organization that positions the greater San Diego region, including Imperial County, as a global leader in the cleantech economy. As a nonprofit organization, we are uniquely suited to support the cleantech industry by fostering collaborations across the private-public-academic landscape, leading advocacy efforts to promote cleantech priorities, and encouraging investment in the San Diego region

Cleantech Scandinavia

Lund Sweden

Cleantech Scandinavia is the renowned provider and promoter of Nordic Cleantech. Our exclusive platform of Nordic cleantech companies offers a unique opportunity for our well-established international network of investors, industrials, real estate companies, cities, service providers and the public sector. We are the trusted source of cleantech-related investment opportunities, business intelligence and investment statistics in the Nordics.

Climate KIC

Berlin France, Germany, Switzerland, Netherland, UK, Nordic

Climate-KIC is one of three Knowledge and Innovation Communities (KICs) created in 2010 by the European Institute of Innovation and Technology (EIT). The EIT is an EU body whose mission is to create sustainable growth. We support this mission by addressing climate change mitigation and adaptation.We integrate education, entrepreneurship and innovation resulting in connected, creative transformation of knowledge and ideas into economically viable products or services that help to mitigate climate change.

Helping the world to deploy one trillion dollars per year to fight climate change.

ClimateLaunchpad is the world's largest green business ideas competition. Our mission is to unlock the world's cleantech potential that addresses climate change. The competition creates a stage for those ideas. ClimateLaunchpad is part of the Entrepreneurship offerings of EIT Climate-KIC.

CLT Joules Accelerator

Charlotte USA

CLT Joules Accelerator is a Charlotte-based, not-for-profit incubator providing entrepreneurs with key connections and tools to develop successful clean energy companies.

Coalition Energy

Chicago USA

Coalition Energy is a coworking hub of professionals in energy. The community includes companies working in clean tech, smart grid technology, energy consulting, and more. With regular events in the space and a calendar full of energy-related events in the greater Chicago area, Coalition Energy's members are connected to the center of the energy movement in the Midwest.

Cyclotron Road

Berkeley USA

Cyclotron Road supports leading entrepreneurial scientists as they advance technology projects with the potential for global impact. Since 2015, we have awarded more than $15 million to 41 fellows who have gone on to generate more than $80 million in funding to support their projects.

Digitaraya

Jakarta Indonesia

Digitaraya is a hub that connects people, place, and program with a mission to bring Indonesia to become the leading player in the global tech ecosystem.

EarthX is an international nonprofit environmental organization dedicated to educating and inspiring people and organizations to take action towards a more sustainable future worldwide.

Elemental Excelerator

Holonunu USA

Elemental Excelerator is a nonprofit created in collaboration with Emerson Collective, an investment and philanthropic platform. Elemental Excelerator works collaboratively with Emerson Collective's Elemental practice, which focuses on strengthening the relationship between humanity and nature through scalable, equitable, and innovative solutions.

Energy Unlocked

London Britain

At Energy Unlocked we are accelerating energy systems transitions by working with businesses of all sizes, understanding market-enabling conditions for new solutions to succeed, and providing processes to accelerate low carbon, resilient, renewable solutions.

EnergyLab Australia

Sydney Australia

EnergyLab was founded to support new business and technological initiatives that move Australia and the world toward 100% clean energy solutions.

Rural Community Based Organizations (CBOs), which are grassroots organizations created by members of the community to address government and market failures, know these problems well. Solar energy, non-electric water filters, improved biomass cookstoves, and fuel briquettes are all modern low-cost technologies that can solve rural energy problems. ENVenture incubates and trains these organizations to enable them to become last mile distributors for clean energy. We want everyone to easily access a quality affordable clean energy product for their home without having to travel far from their community.

E.ON Agile Accelerator - accelerateCPH

Frederiksberg Denmark

The #accelerateCPH programme is the Danish programme under the E.ON Agile Accelerator. We invest in startups that develop smart products, services or business models, in order to solve the big and small energy and sustainability challenges of the world to create a better future and thereby improving the lives of people at a broader scale. By using our knowledge from the energy sector, we help bring new ideas to life.

Ethiopia Climate Innovation Center - ECIC

Addis Ababa Ethiopia

Ethiopia Climate Innovation Center (ECIC) was launched in March 2014. This new initiative is supported by infoDev and is part of a Global Network of Climate Innovation Centers being launched by infoDev's Climate Technology Program (CTP) in the Caribbean, Ghana, India, Kenya, Morocco, South Africa, and Vietnam.

Foresight Cleantech Accelerator Centre

Burnaby Canada

Foresight Cleantech Accelerator Centre is Western Canada's first clean technology accelerator, launched in March 2013 as a not-for-profit corporation to foster the growth of small and medium size businesses (SMEs) in the development and commercialization of viable technology solutions to create and produce energy more efficiently and responsibly.Funded by the BC Innovation Council (BCIC) and Canada's National Research Council's Industrial Research Assistance Program (IRAP), Foresight is dedicated to providing everything it takes to see our clients succeed. We believe start-up success requires an ecosystem of mentorship, like-minded entrepreneurs, and industry specific guidance.

Fraunhofer USA

Boston USA

The Fraunhofer USA Center for Sustainable Energy Systems CSE accelerates the adoption of sustainable energy technologies through scientific research and engineering innovation. Our staff's expertise in solar photovoltaics, smart energy-efficient buildings, and grid technologies provides a platform for deeply integrating distributed energy resources through collaborative R&D with private companies, government entities, and academic institutions. Fraunhofer CSE is one of seven centers of Fraunhofer USA Inc., a 501(c)(3) non-profit contract R&D organization. Fraunhofer USA Inc. works closely with Fraunhofer-Gesellschaft, Europe's largest contract R&D organization.

Ghana Climate Innovation Center - GCIC

Berekuso Ghana

Ghana Climate Innovation Centre (GCIC) is a pioneering business incubator with a unique focus of developing SME ventures and entrepreneurs in Ghana's 'Green Economy'. We develop and support an exceptional set of transformational ventures and entrepreneurs who are pioneering adaptive and mitigating solutions for climate change issues in Ghana.

Go Massive Incubator

Noida India

GoMassive is an India-based deep science accelerator and funding network connecting Startups, Investors and Policy Makers in areas of Clean Energy, Mobility, Agriculture and Pollution Reduction.

Green & Low-carbon Development Foundation

Shenzhen China

Green & Low-Carbon Development Foundation (hereafter referred to as GDF) is the first non-profit environmental protection organization aiming at green and low-carbon development in Shenzhen. Since its establishment, GDF has always followed the principles of profession, innovation and efficiency, to establish platforms for public welfare, integrate social resources, as well as provide solutions to address climate change and to drive sustainable development; meanwhile, by making the most of programs for public good, GDF publicizes low carbon concept, advocates low carbon civilization, and encourages sustainable carbon emission reduction behaviors, to contribute to the achievement of low carbon development.

Green Innovations BV

Zaandam Netherlands

Green Innovations is a Business Development and Sales Accelerator for inventors and start-ups in the Cleantech Industry with transformational innovations to grow their businesses and increase revenue. The solutions will save or generate energy.

Green Startups

Beijing China

"Green Startups" is the pioneer acceleration platform for Green Innovation and entrepreneurship in China. Our approach described as "accelerating" +"impact investing" helps early startups with an environmental intent to overcome survival barriers and to sustain development, in order to achieve"from 1 to 10"growth.

Greenpeace - Powerlab

Beijing China

To promote the energy revolution, realize energy transformation and cultivate a sustainable soil for energy innovation, Greenpeace and Calcef / New Energy Nexus co-founded the PowerLab. The objective of the project is to provide comprehensive support for capacity-building, mentoring, relationship building and dissemination by discovering qualified energy innovation projects, individuals and teams in China through continuous project roadshows, offline activities and media diffusion.

www.greenpeace.org.cn/site/climate-energy/2016/powerlab/about.php

Greentown Labs

Somerville USA

We're a community of bold and passionate entrepreneurs creating energy technologies that transform the way we live, work, and play. At Greentown Labs, we deeply believe in the impact that innovative clean technologies will have on the world, and we know the relentless human energy of a few scientists, engineers and business people can make a big difference. We know because we see it every day at Greentown Labs.

Hunan Innovative Low Carbon Center

Changsha China

Hunan Lianchuang Low-carbon Economic Development Center takes the mission of promoting low-carbon development, service transformation and organizing researches in Hunan Province to address climate change. The center also assists the government to carry out international exchanges and cooperation in climate change projects for low-carbon development. The project provides carbon financial advisory services to promote green finance and the transfer of international low-carbon technologies to China.

IIM Ahmedabad's Centre for Innovation Incubation and Entrepreneurship (CIIE)

Ahmedabad India

IM Ahmedabad's Centre for Innovation Incubation and Entrepreneurship (CIIE) helps entrepreneurs turn ideas into viable businesses. In partnership with our mentors, corporates, development agencies, IIMA community and investors, CIIE cultivates a rare breed of entrepreneurs by incubating, accelerating, mentoring and funding innovative start-ups. CIIE believes that entrepreneurship has an unmatched ability to bring about disruptive change in India and engages with ventures across technology and impact areas like energy, environment, agriculture, healthcare and affordable technology. CIIE believes it should operate in sectors and geographies where there are market failures and private support is not easy to find.

Impact Hub Manila

Manila Philippines

Impact Hub Manila was founded in 2015 as a for-purpose business model.We allow our members to have the flexibility to work around Manila and access our workspace in BGC, Makati, & Ortigas.Combining the best from an innovation lab, learning community and startup incubator, we provide a collaborative space to prototype the future of business.

Impact Investment Exchange

Singapore Singapore

Impact Exchange is the world's first Social Stock Exchange dedicated to connecting impact enterprises with capital that reflects values.

Incense Accelerator Spain

Roma Italy

INternet Cleantech ENablers Spark project (INCENSe) aims to foster innovation and high tech employment in the European Energy Sector through the provision of funding and providing world-class acceleration services to support entrepreneurs in the creation of innovative market-oriented solutions able to make energy smarter, reliable and efficient.

Infuse Ventures

Ahmedabad India

Infuse Ventures is an early stage venture capital fund and ecosystem focused on the sustainability and clean energy sector in India. Looking to invest in entrepreneurial teams with big ideas and a need for capital and support to turn their ideas into great companies.

InnoEnergy

Eindhoven Scandinavia, Central Europe, Benelux, Germany, France, and Iberia

At InnoEnergy we support and invest in innovation at every stage of the journey – from classroom to end-customer. With our network of partners we build connections across Europe, bringing together inventors and industry, graduates and employers, researchers and entrepreneurs, businesses and markets.

Innosphere

Fort Collins USA

Innosphere is a high-tech incubator supporting entrepreneurs building high-growth companies in the industries of health innovation, life sciences, software & hardware, and energy & advanced materials. Innosphere's incubation program focuses on ensuring companies are investor ready, connecting them with experienced advisors, and making introductions to corporate and strategic partners.

Kinetica Ventures

Calgary Canada

Kinetica Ventures help guide research or innovation-driven enterprises to market or to the next stage of business growth. From ideation to commercialization, Kinetica Ventures have successfully supported the innovation-driven community for 35 years. Kinetica Ventures are proud members of Alberta's innovation ecosystem and work with local, national and international partners to help you move your ideas forward.

Innovation and Business Incubator Center of Harbin Institute of Technology

Harbin China

Incubating 58 start-up technical companies which founded by the students and graduates of more than HIT,and match more than 20 million dollars Angel and Venture Capital for them.

Institute for Environment and Development

Beijing China

Established in 1994 as a domestic NGO, the Institute for Environment and Development (IED) is an independent research institute in the fields of environmental protection and social development. With the mission of exploring solutions to environmental and development issues and promoting the sustainable development of Chinese society, IED adopts a down-to-earth approach to research and innovative thinking and has consistently provided cutting-edge information, analysis and constructive solutions to government, the public and the business community.

Integrated Innovation Department of Sino-Swiss Zhenjiang Ecological Industrial Park

Zhenjiang China

The Sino-Swiss Zhenjiang Ecological Industrial Park(SSZEIP)was launched on July 2012 in Zhenjiang Economic And Technological Development Zone (ZETDZ). It is based on a bilateral initiative between the Ministry of Commerce of the People's Republic of China (Mofcom) and the State Secretariat for Economic Affairs of the Swiss Confederation (Seco).

Kenya Climate Innovation Center - KCIC

Nairobi Kenya

The Kenya Climate Innovation Center (KCIC) provides holistic, country-driven support to accelerate the development, deployment and transfer of locally relevant climate and clean energy technologies. The KCIC provides incubation, capacity building services and financing to Kenyan entrepreneurs and new ventures that are developing innovative solutions in energy, water and agribusiness to address climate change challenges. The Kenya CIC is an initiative supported by the World Bank's infoDev and is the first in a global network of CICs being launched by infoDev's Climate Technology Program (CTP). The Kenya CIC is funded by the United Kingdom's UKaid and the Danish Ministry of Foreign Affairs.

Kenya Climate Ventures

Nairobi Kenya

Kenya Climate Ventures (KCV) was founded in 2016, with seed capital from Danida and UKAid. KCV is an independent subsidiary of Kenya Climate Innovation Center. The firm is an independent investment management company based in Kenya seeking to accelerate the development of the clean-tech industry as a whole by providing much needed tailored and targeted financial and managerial assistance support to innovative early stage businesses. KCV seeks to invest in businesses that have relevant products or services, sustainable competitive advantage, good management teams and ethical business practices.

KX Innovation Center Thailand

Bangkok Thailand

KX Knowledge Exchange for Innovation is South East Asia's largest Innovation Center for facilitating the exchanges of knowledge, technology, and innovation capability between academic allies, startups, investors, SMEs, and public organizations, in order to elevate Thailand's technological and innovation competency.

Los Angeles has launched its cleantech business incubator to accelerate development of cleantech start-ups by offering flexible office space, CEO coaching and mentoring, and access to a growing network of experts and capital. LACI is the business equivalent of baseball's farm system: it identifies local talent, nurtures it, and helps it get to market, resulting in more jobs and a bigger green economy in Los Angeles.

Launch Alaska

Anchorage USA

Launch Alaska is a business accelerator that invests in scalable startups in food, water, transportation, and energy. Harnessing Alaska's distinct mix of resources, markets, and opportunities, we work side by side with some of the world's brightest startups to help them scale solutions to the planet's hardest problems. We're on a mission—to accelerate the resource revolution. To change our relationship with carbon fueled energy. To liberate our food, water, transportation, and energy systems from the prison of what past generations thought possible. To work with dynamic startups innovating real-world solutions to important problems. To get out of the rut of production and consumption we've been in for decades, stepping forward into a brighter future of access, independence, and efficiency.

MaRS Discovery District

Toronto Canada

MaRS Cleantech, based out of Toronto's MaRS Discovery District, is the largest cleantech innovation hub in North America. We work closely with entrepreneurs and investors to bring innovative solutions to market in the key areas of energy, water, agriculture, and advanced materials and manufacturing. With an experienced team of cleantech professionals, we support our ventures by providing valuable connections to innovators, potential partners, customers, capital and talent. At a systemic level, MaRS Cleantech also works to break down financial and regulatory barriers that have traditionally slowed the adoption of clean technologies.

The Massachusetts Clean Energy Center (MassCEC) is a state economic development agency dedicated to accelerating the growth of the clean energy sector across the Commonwealth to spur job creation, deliver statewide environmental benefits and to secure long-term economic growth for the people of Massachusetts. MassCEC works to increase the adoption of clean energy while driving down costs and delivering financial, environmental, and economic development benefits to energy users and utility customers across the state.

Mekong Business Initiative

Hanoi Vietnam

MBI is a development partnership between the Asian Development Bank and the Government of Australia to accelerate growth in Cambodia, Laos, Myanmar, and Vietnam. MBI believes that catalysing sustainable business growth in the Mekong region will require innovation, flexibility, and a willingness to take risks.

Morocco Climate Innovation Center - MCIC

Casablanca Morocco

The Morocco Climate Innovation Center (MCIC) was launched in 2014 by Masen with the support of the World Bank/infoDev's Climate Technology Program (CTP). The MCIC is part of a global network of Climate Innovation Centers and represents the first clean-tech hub in the region.

Network for Global Innovation

Los Angeles USA

NGIN is a global membership organization that includes incubators, technology parks, research institutes, universities and corporations. It's a matchmaker between customer and company, between investor and opportunity.

NextEnergy is an innovation center accelerating advanced energy, mobility and built environment technologies to enable smarter and more sustainable cities. Since its inception, NextEnergy has worked with more than 400 companies, universities, federal agencies, and philanthropic organizations to drive more than $1.5 billion in advanced energy and mobility technology investments.

NEXUS-NY is a clean energy seed accelerator. Each year we provide financial, business and educational support to around 10 entrepreneurial teams which are selected through a competitive application process. Program participants are eligible to receive approximately $50,000 of equity-free direct financial support.

Energy Research Institute @ NANYANG TECHNOLOGICAL UNIVERSITY

Singapore Singapore

Energy Research Institute at Nanyang Technological University (ERI@N) Accelerator Programme (EAP) takes the initiative to provide support and galvanize entrepreneurship to bring innovations from the lab to the real-world. ERI@N is strategically placed in the wider domain of clean energy and energy efficiency that focuses on applied research and deployment with targeted industry participation – which provides the opportunity to understand problems and accordingly work on relevant solutions that are practical, deployable, cost effective, scalable and marketable.

https://erian.ntu.edu.sg/aboutus/Pages/default.aspx

The Urban Future Lab (UFL) is New York City's hub for smart cities, clean energy, and smart grid technology.

Our programs include ACRE, a business incubation program for pre-seed to series A startups, PowerBridgeNY, a proof-of-concept center commercializing research from local universities, and Clean Start, an advanced diploma from NYU for people seeking a transition into the cleantech sector. The UFL is part of the NYU Tandon School of Engineering and is located in the Downtown Brooklyn.

PFAN-Asia program

Cambodia, India, Indonesia, Philippines, Thailand, Vietnam

The Private Financing Advisory Network for Asia is a five-year regional program implemented by Deloitte Consulting LLP. The goal of the program is to mobilize $1 billion of investment in renewable energy generation projects, energy efficiency programs and clean transportation projects to avoid or reduce greenhouse gas emissions amounting to at least 40 million tons of carbon dioxide equivalent.

Powerhouse is an Oakland based co-working space and seed fund that houses and invests in 'intelligent energy' entrepreneurs building software-enabled solutions for the clean energy industry. Our co-working space houses over 100 intelligent energy entrepreneurs and our seed fund invests in them. Powerhouse supports entrepreneurs building a future powered by clean energy.

Prospect Silicon Valley

San Jose USA

Prospect Silicon Valley is advancing the field of urbantech by developing a network to solve the significant challenges and pressures our cities face; helping the public sector, startups and corporations build and prove new solutions for the essential foundation of our cities — transportation & mobility, energy and buildings.

Rockstart Smart Energy

Amsterdam Netherland

Rockstart, one of Europe's first multi-vertical startup accelerators, was founded in Amsterdam in 2011 with a goal to provide startups with access to the market, capital, knowledge, and community.

Sangam Ventures

Gurgaon India

Sangam Ventures is the only dedicated early stage cleantech investment fund and now accelerator and government recognized incubator. We support companies the increase access to energy and improved resource utilization with the duel goal of promoting inclusive development and promoting businesses that with mitigate climate change or facilitate climate adaptation.

Shenzhen Open Innovation Lab

Shenzhen China

Shenzhen Open Innovation Lab embodies four functions including Fab Lab promotion and FabLab 2.0 research and development, innovation and entrepreneur education courses for makers, global maker service platform, and industry chain collaboration service. The lab dedicates in exploring the issues and developing solutions to connect the massive production ecosystem to small hardware startups so as to promote the international standing of Shenzhen in the development of digital intelligent hardware and manufacturing and build a future intelligent hardware Silicon Valley by combining new open source method and current manufacturing system in Shenzhen.

Small World Group

Singapore Singapore

Small World Group provide seed funding, mentorship, networking and long-term collaboration for early stage startups that are primarily in clean tech, optical systems and novel materials. With our combined operational expertise and creative agility. Small World Group helps startups realize their ideas and get them to market.

Smart Energy Network

Oslo Norway

Smart Energy Network is a network of companies, entities and bodies that meet regularly to discuss, challenge and develop their businesses. The natural methodology of the network is to combine smart thinking with the newest insights and modern technology – and with creativity broaden the way of doing business for each single member.

Smart Grid Cluster

Chicago USA

The Smart Grid Cluster supports economic growth for companies building the future of energy and the grid. We offer a combination of business, technical and financing support services that leverage the Illinois region's robust corporate and research assets, and drive the continual economic growth of the energy innovation ecosystem.

Solar Sister

Great Falls USA

Solar Sister eradicates energy poverty by empowering women with economic opportunity. We are creating a deliberately woman-centered direct sales network to bring the breakthrough potential of clean energy technology to even the most remote communities in rural Africa.

South Africa Climate Innovation Center - SACIC

Pretoria South Africa

The Climate Innovation Centre South Africa (CICSA) is a strategic Green Economy initiative of The Innovation Hub Management Company (TIHMC). TIHMC is a wholly owned subsidiary of the Gauteng Growth and Development Agency ("GGDA"), and was established by the Gauteng Provincial Government through its Department of Economic Development (DED) to operate as a science and technology park (The Innovation Hub) that promotes socio-economic development and competitiveness of the province through innovation.

South Africa Renewable Energy Business Incubator (SAREBI)

Cape Town South Africa

SAREBI supports the development of clean energy entrepreneurs through a range of interventions. These may include peer learning workshops, business case development, coaching, entrepreneurial skills development, market facilitation.

Startupbootcamp - Smart Transportation & Energy

Berlin Germany

Startupbootcamp Smart Transportation & Energy is the leading global startup accelerator with a focus on the connected and efficient mobility of people and goods. We provide funding, mentorship, and office space in the heart of Berlin and access to a global network of corporate partners, mentors, and investors, for up to ten selected startups across the globe.

www.startupbootcamp.org/accelerator/smart-transportation-energy

Startupbootcamp Energy Australia

Melbourne Australia

Startupbootcamp Energy Australia is the leading global accelerator for innovative startups solving problems in Energy Efficiency, Energy Independence, Digitisation and Analytics.

Start Up Energy Transition

Berlin Germany

Start Up Energy Transition (SET) is an international platform supporting innovation in energy transition. It is comprised of the annual SET Award and SET Tech Festival.

The initiative brings together the most outstanding international start-ups in the field of energy together with key stakeholders in the energy sector. Through the help of our global network, we received nearly 1000 start-up applications from 88 countries in just two years. The submissions are  evaluated by a top-notch reading jury, which identifies the Top 100 list of the most innovative, savvy and promising  start-ups. The final jury, comprised of high-level individuals in the energy and climate sector, selects the 18 finalists of the Award, which you can meet and engage with at the Tech Festival.

Terralab ventures

Yokneam Israel

Beyond the funding, our companies enjoy a fully equipped working space, enabling entrepreneurs to focus on developing their products while reducing operational costs. Our on site team is entirely dedicated to answer all the entrepreneur needs – Engineering, Business Development, PR/Marketing, Product, UI/UX Design, Legal, Finance, Operations, HR and more.

The Egyptian National Cleaner Production Center (ENCPC)

Cairo Egypt

The Egypt National Cleaner Production Centre (ENCPC) was established as a service provider for the Egyptian Industry in 2005 by the Ministry of Trade and Industry (MoTI) in close cooperation with the United Nations Industrial Development Organisation (UNIDO) as a part UNIDO/UNEP global network of NCPCs/NCPPs (51 centres) and part of the Egyptian Industrial Council for Technology and Innovation.

The Green Way

Dublin Ireland

The Green Way is a Cleantech cluster organisation in Dublin. It was founded in 2010 when a number of key regional stakeholders decided to collaborate in order to encourage green economic growth through the stimulation of the Cleantech sector in Dublin. The term Cleantech encompasses all industries and companies which are involved in sustainable development, eco-innovation (products, services, processes) and resource efficiency.

The Innovation Hub

Pretoria South Africa

The Innovation Hub, the innovation agency of the Gauteng Province is a wholly owned subsidiary of the Gauteng Growth and Development Agency. It was established by the Gauteng Provincial Government through its Department of Economic Development to promote economic development and competitiveness of Gauteng through fostering innovation and entrepreneurship.

Tianjin Economic-Technological Development Area (TEDA)

Tianjin China

The area was created in late 1984. Since 1997, the Ministry of Commerce (MOFCOM, the former Ministry of Economy and Foreign Trade) started a comprehensive appraisal on investment environment of all national-level development zones which covers eight major indicators like overall economic strength, infrastructure, operation cost, human resources and supply, society and environment, facilitation for technology innovation, management system building, and development and efficiency. For 12 years in a row, TEDA topped the list. It is a leading investment spot and the Asia-Pacific at large

Turning Tables

New York USA

Turning Tables works to empower socially, politically and economically marginalized youth in developing countries by providing them with the means to express their grievances, hopes and dreams in music and film. We build creative environments through inspiration, learning and transfer of technology that enable artistic self-expression in spaces where this would otherwise have been thought impossible.

Tuspark Ventures

Beijing Beijing, China

TusPark Ventures (also known as TusPark Capital) is the venture capital investment arm of Tsinghua University. In 2001, TusPark Ventures was established to function as a platform to incubate, develop and industrialize discoveries in Tsinghua Science Park to promote technology innovation and entrepreneurship.Over the past 10 years, TusPark Ventures has invested in over 80+ portfolio companies covering TMT, New Materials, Clean-Tech and other industrial sectors.

Umore cleantech consulting

Shanghai China

Umore Cleantech Consulting is a global consulting firm focused on cleantech transfer and financial services. We are committed to fostering collaborations across environmental government agencies, private equities, venture capitals, and technological SMEs to assist companies in driving sustainable business growth. With our global platform and industrial research capacity, we provide full-dimension and customized solutions in connecting local partners with international companies and supporting on a smooth landing to the Chinese market in terms of merger and acquisition, business development and strategic partnership.

Valley Ventures Accelerator

Fresno USA

The Valley Ventures Accelerator is a program of the International Center for Water Technology at Fresno State. Its main goal it to help promote the growth of participating ventures. Whether that be involving students, staff, and faculty or setting up a company's technology on the 1,000 acre farm. It all starts with Fresno State's strong focus on real world agricultural issues and the involvement with private industry partners. With such a focus on leveraging academic and public resources for the development of the agricultural, water, energy nexus, Fresno State will continue to be an instrumental institution for Valley Ventures.

Venture Center

Pune India

Venture Center strives to nucleate and nurture technology and knowledge-based enterprises by leveraging the scientific and engineering competencies of the institutions in the "Pune region" inIndia. The Venture Center aims to empower and enable scientists and engineers in pursuing technology, innovation and entrepreneurship objectives.The Venture Center is the trademark of Entrepreneurship Development Center, a not-for-profit company hosted by the National Chemical Laboratory, Pune, India.

VertueLab is a bridge between cleantech innovators and those who fuel their work with funding and investment.

For innovators – we deliver acceleration programs to help their companies grow and attract capital.
For funders – we amplify their philanthropic and economic development goals.
For impact investors – we are a conduit for direct investing for a combination of financial return and measurable impact.

Vietnam Climate Innovation Center - VCIC

Hanoi Vietnam

VCIC supports entrepreneurs and small enterprises to develop technological innovations and new business models offering commercially viable products and services that foster climate change adaptation & mitigation. Qualifying entrepreneurs are supported with: Grants; Mentoring: Training; Business Advisory Services; and Fund Raising, at all the stage of their entrepreneurial journey from: Ideation; Incubation; Commercialization; to Market Development.

Villgro is India's oldest and one of the world's largest social enterprise incubators. Established in 2001, Villgro incubates early-stage, innovative, for-profit social enterprises in energy, health, agriculture and education sectors, among others, that have an impact on the lives of the poor. Apart from India, Villgro supports social enterprises in Kenya, Philippines and Vietnam.

YES SCALE – a platform accelerator by YES BANK focusing on key impact sectors of the economy – Smart City, Clean Energy, Agriculture, Life Sciences and Education.  Building on its model of collaborative innovations with startups, YES BANK has launched YES SCALE comprising of 5 distinct and focused accelerator programs –Smart City, Cleantech, Agritech, Life Sciences Tech and Edutech. The YES SCALE platform will bring together corporates, Govt. bodies, global ecosystem players, influencers, investors and technology leaders to nurture tech startups in these sectors, through funding, mentorship and commercialization support. Startups working in the above mentioned domains will get to explore PoC's and GTM, not only with YES BANK, but with our clients in these sectors as well.

Alishverish

Islamabad Pakistan

Alishverish is a tech infrastructure design, commissioning and procurement consulting company primarily working in renewable energy technologies. Alishverish has now initiated a Pre-Incubation Program EcoGuards Impactory in Pakistan to provide training and mentoring for renewable energy, cleantech and eco-innovative startups for sustainable growth.