The ASEAN group of nations as a whole aims to increase energy efficiency 20 percent by 2020 and 30 percent by 2025. Currently, buildings account for about 40 percent of total final energy consumption in Southeast Asia. Given this fact, they hold some of the highest potential for energy savings. Efficiency is also one of the least cost ways of meeting growing electricity demand in buildings when compared to onboarding additional energy generation.
New Energy Nexus is organizing the Building Energy Challenge 2020, sponsored by the Asian Development Bank's ADB Ventures. The Challenge will feature a series of Online Workshops & 1 on 1 sessions introducing companies with innovative energy efficiency technologies for buildings to commercial property groups and energy intensive corporate partners. Currently, deployment of these solutions are sometimes hindered by a lack of knowledge about their availability or the efficacy of such solutions. This Building Challenge introduces the best companies in the region and around the world that offer innovative energy efficiency solutions to some of the most forward thinking corporations in the region and initiate conversations which can lead to pilot projects and commercial deployment of solutions. Our Corporate Partners include: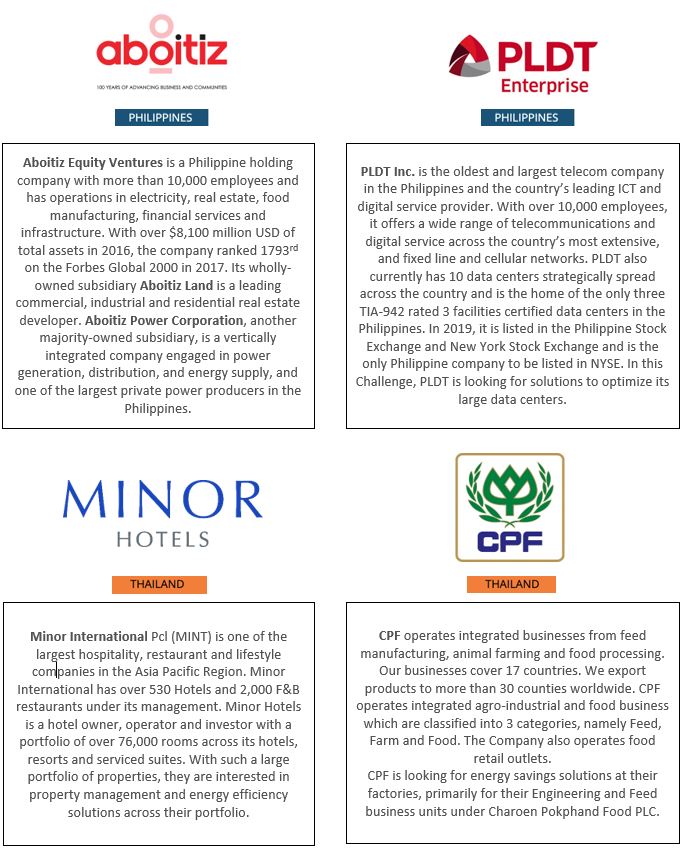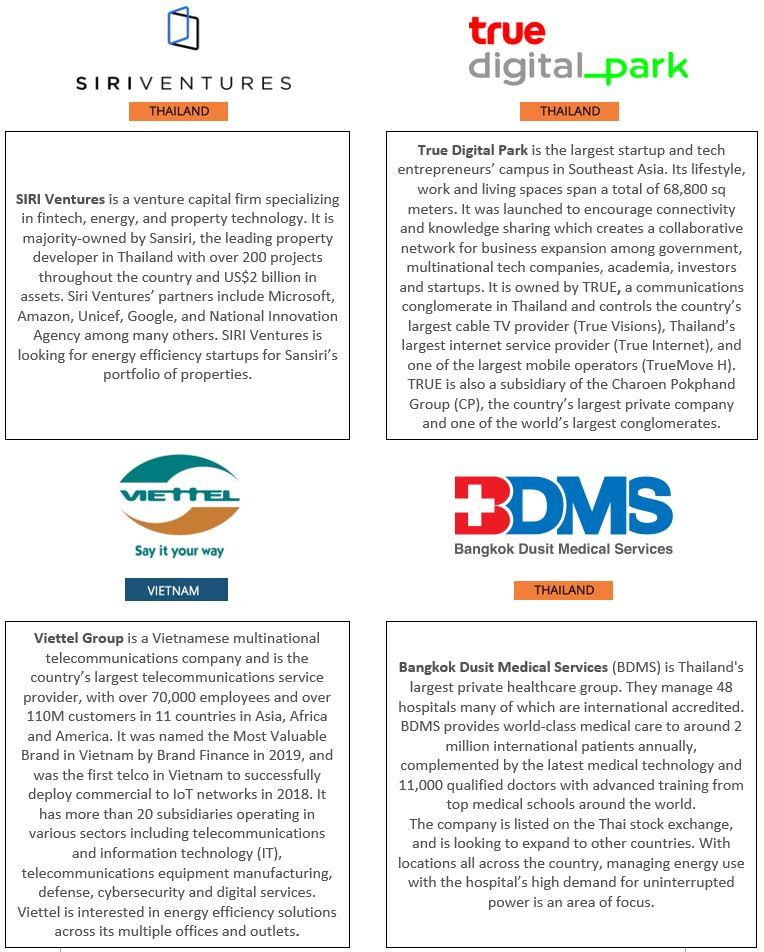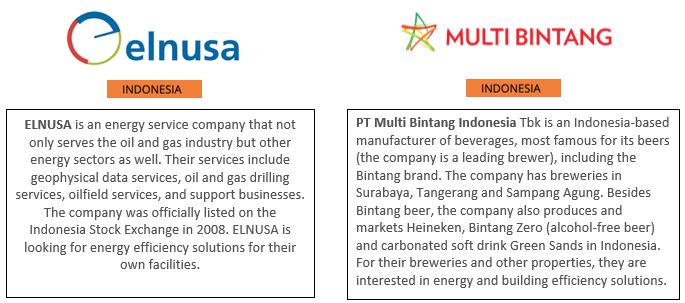 (See bottom of page for links to company websites)
Energy Efficiency Companies & Startups – What's in it for you?
Building Energy Challenge 2020 open call for applications targets startup companies working on energy efficient solutions who are already generating revenue, want to scale up and are ready to build commercial relationships in new markets, and thus are potentially ready for investment by ADB and Corporate Partners. Around 10 Startups will be selected as finalists to join the program.
New Energy Nexus Network Induction

As an alumni member of one of our programs, we continually provide mentoring support to our startup companies

Direct engagement with large property & commercial groups in ASEAN

We have invited some of the largest forward-thinking corporate groups to be a part of the challenge searching for solutions they can apply to their facilities and service offerings

Deal flow / investor sessions with fund partners

We will be setting up investor introduction meetings with ADB Ventures Investment team and other cleantech fund partners

Country visits with corporate partners in ASEAN (Planned depending on COVID19 status)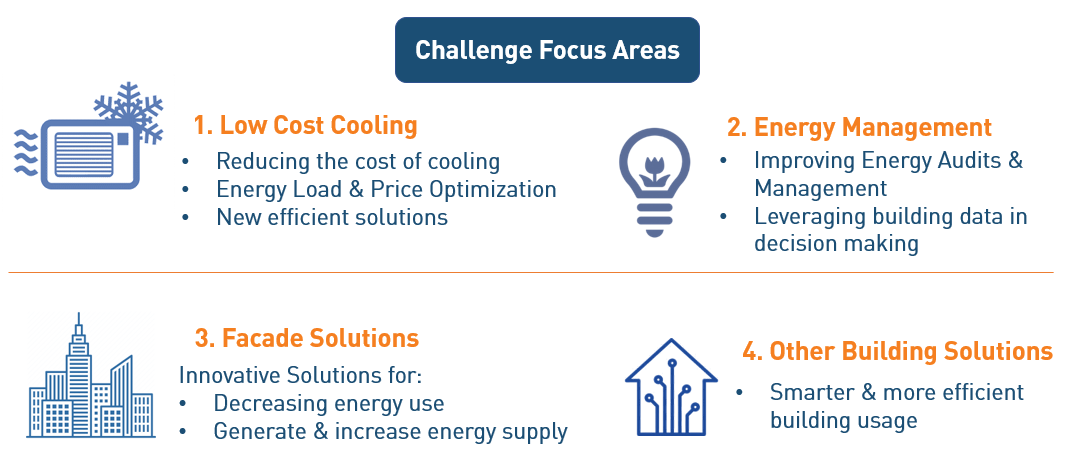 Companies will be selected using the following criteria:
Innovative & Diverse Solutions – clearly innovative or disruptive, differentiated from existing solutions, exhibits competitive advantage potential
Relevance for Energy Efficiency – startups need to have commercial projects completed, ready for new pilots in Southeast Asia in the region
Quality of Team – credible team, quality CV's, relevant qualifications/experience
Market Potential & Scalability – large addressable market with significant deployment potential
Business Model – well articulated, viable business plan based on credible data
Maturity – sufficient funds raised with a six month cash run-way and / or has revenues to engage in pilot projects in new markets
Update:  After finalists are selected, the program will consist of initial conversations via online channels discussing energy challenges and pilot project design then include 1 on 1 discussions between Corporate Partners and the Startups. Regional in person workshop OR smaller trips to visit country corporate partners will be planned after COVID19 wind down.
Online Workshops (June) will consist of the following: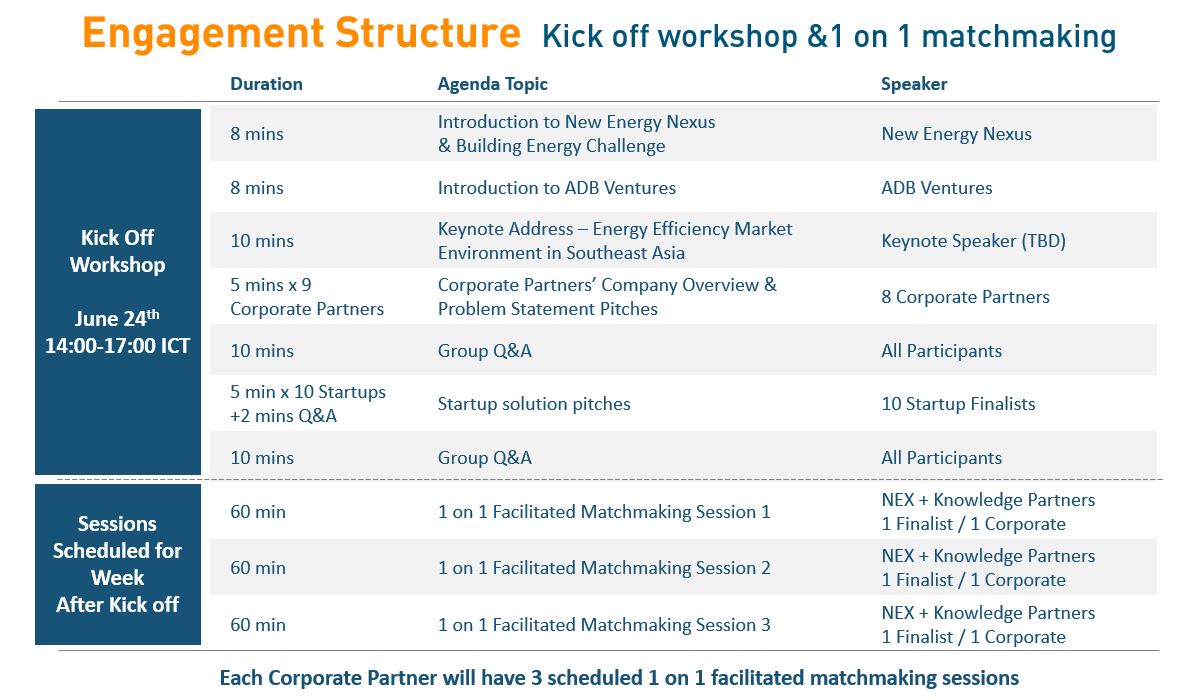 1.    Initial Kickoff Workshop and with Corporate Overviews and Startup Pitches – June 24th
2.    Individual 1 on 1 facilitated sessions with specific Partners to explore pilot opportunities
3.    Potential investment readiness session with ADB Ventures and other interested investors (For startups)
Corporate Partners please contact us about joining or observing the challenge!